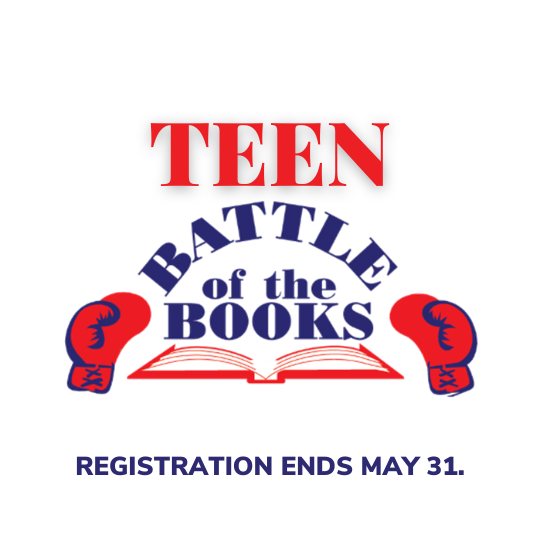 Teen Battle of the Books is back with two epic battles! This summer, there will be a Middle Grade (grades 6-8) battle and a High School (grades 9-12) battle!
Celebrate the joy of reading by forming teams, reading six pre-selected books, and then battling against other teams by answering trivia questions. Monetary prizes for all winners! For youth in grades 6-12.
Registration ends May 31. Download the registration form or pick up a copy at the Youth Desk.
Don't have a team? Come to the Mandatory Informational Meeting on May 31 at 4 pm to meet other teens and form a team.
Contact Jennifer Kendall at 928.777.1500 ext. 5353 for more information.
IMPORTANT BOOK BATTLE DATES:
Middle Grade Battle of the Books on Wednesday, July 26 at 6 pm
High School Battle of the Books on Thursday, July 27 at 6 pm
Presented with funding from the Friends of the Prescott Public Library.