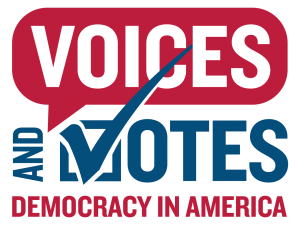 The Voices and Votes exhibit has left the library but you can view the virtual tour below!
About the Exhibition
When American revolutionaries waged a war for independence they took a leap of faith that sent ripple effects across generations. They embraced a radical idea of establishing a government that entrusted the power of the nation not in a monarchy, but in its citizens. That great leap sparked questions that continue to impact Americans: who has the right to vote, what are the freedoms and responsibilities of citizens, and whose voices will be heard? Voices and Votes will be a springboard for discussions about those very questions and how they are reflected in local stories.
View our local exhibit located in the Viewerie on the 2nd floor when the library reopens. Thanks to the collaboration of Sharlot Hall Museum and community partners, visitors will encounter photographs and artifacts from the community's history that help tell the story of what happens when individuals decide to make change.
Browse books, audiobooks, and videos for youth and adults that complement the exhibit. View the complete list from our catalog.
Voices and Votes has been made possible by Arizona Humanities. Voices and Votes: Democracy in America is part of Museum on Main Street, a collaboration between the Smithsonian Institution and State Humanities Councils nationwide. It is based on an exhibition by the National Museum of American History. Support for Museum on Main Street has been provided by the United States Congress. Additional funding is provided by the Friends of the Prescott Public Library.